Centralized Lubrication Systems, Hydraulics and Pneumatics
PNEUMATIC GREASE PUMPS
Wide range of pneumatic pumps for greases. The pneumatic pumps for drums can be used in general lubrication purposes as in centralised lubrication systems.
Pneumatic pumps for drums

The main feature of our pumps is their high quality. There are different sort of pumps in function of the work to do or the fluid to pump. There are pumps for drums of 12, 25, 50 and 180 Kgs or for bulks. Ratios from 1:1 up to 80:1. Flow rates from 1 Kg/min up to 40 Kg/min at free delivery. Large diversity of accessories such as followers, covers, lifts, filters, etc.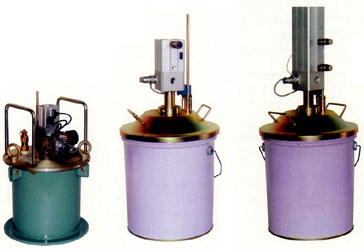 Pneumatic grease pumps for small cans. The picture of the left is a grease pump suitable for 1 and 2,5 Kgs. can. The suction pump is done by the pressurization of the tank. It is allways necessary that you refer to the inner diameter to prepare a special follower plate. Pumps has a ratio of 5:1.The other pumps are suitable for 18 and 20 Kgs. Pail cans, these are not included. Ratios are 8:1 and 20:1. In case of more information please contact us.
Pneumatic Pumps for Centralised Lubrication Systems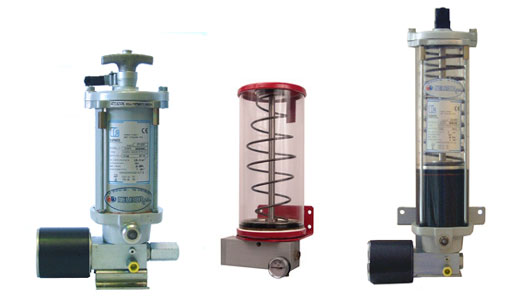 Pneumatic pumps for progressive systems. Reservoirs from 1Kg. up to 5 Kgs. Versions with and without electrical level switch. Ratios up to 30:1. Fix or adjustable flow rate.
c/ Pereda, 28 Pol. Ind. Monsolís 08930 San
t Adrià del Besòs (Sp
ain)
Phone 00 34 934 62 13 00
Fax 00 34 934 62 24 75 email
neubor@neubor.com